The #1 Interview Question You Will Be Asked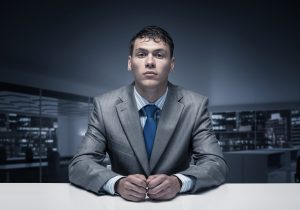 Welcome to your first formal law enforcement interview and have a seat. Wearing impeccable uniforms across the table is a lieutenant and two sergeants. In the corner monitoring the interview is a civilian from the Human Resources Department. Are you nervous yet? Have you prepared? Do you have any idea what questions are likely to be asked? If you had adequately prepared, you should know what the very first question will likely be.
Odds are the first question you will be asked is, "Why do you want to be a law enforcement officer?" There will be several variations of the same question, but it all boils down to the same question. There is no reason not to nail this question and no excuse for not preparing. The answer will be different for everyone, but there are some basic guidelines everyone should follow.
Prepare, Prepare and Prepare Some More
Preparation to answer this question will begin long before your interview.  To prepare, get out a piece of notebook paper, or fire up a page on your computer. Write or type the original question at the top, construct your response, and be careful to stay on one page single-spaced. When spoken in a conversational tone, your response should last no more than two minutes. The panel members will be interested in your response but will have other applicants to interview and need to stay on schedule. A lengthy, incoherent, and wandering response will not be welcomed and not score high.
During my 30 year career, I had the opportunity to sit through hundreds of interviews. It was easy to pick out applicants who prepared from those who were not.  There was the applicant who responded, "I applied for five jobs and never even had a callback, so I figured I might as well be a cop because how hard could it be?" Zero points for you  - make it six jobs you didn't get. Another time an applicant was so nervous, he rambled on for over eight minutes before I stopped him. About two minutes into his response, one of the board members handed me a note asking if we should stop him. I scribbled back, "Let's see how long he can keep going." Both applicant responses demonstrated the same characteristic - utter lack of contemplation and preparation.
Ben Franklin is credited with the saying, "By failing to prepare, you are preparing to fail." This is never more true and applies to all phases of the application and selection process. So, if your response should be no more than two minutes, how should you craft your answer? Honestly, there is no specific formula, but your answer will need to be genuine.
Just Be Honest
To construct a realistic and believable answer, be honest with yourself.  If you haven't asked yourself why you want to be an officer, reach deep inside and examine your feelings. The time to be thinking about this is not while sitting in front of the interview panel for the first time. What is it about the law enforcement profession which motivated you to apply? I realize you may have numerous reasons such as good pay and benefits, but this is true of many occupations.
When constructing my own response, I have had success using a "Three Concept Response." This refers to mentioning three key items in your answer. By way of illustration, "I am motivated by (1) the opportunity to serve my community, (2) the rewards from selecting a challenging career, (3) the financial stability offered by a law enforcement career. The first concept you mention should be your "Primary Motivation," and I suggest it have some altruistic component.
Selecting Your Primary Motivation
In my response, my Primary Motivation was, "The opportunity to serve my community." The next two are the secondary or tertiary responses.  You cannot simply throw a statement out there without providing more context. Other concepts for possible inclusion in your answer are as follows:
Public Service, Rewarding, Challenging, Financial Security, Medical Benefits,  Advancement Opportunities, Pension, Respectable, Team Work, Job Satisfaction, Recession Proof, Exciting, Outdoors, Professional, Leadership,  Career Development, Assignment Diversity
Sample Response
By way of illustration, the first few sentences of a fully-developed response could be as follows.
"I would like to thank you for the opportunity to respond to your questions today. There are many reasons I wish to become a police officer, but I would like to highlight three of the most important. Since an early age, I have been dedicated to community service; secondly, I desire a financially secure career with good benefits. Finally, I can't think of a more rewarding career."
"I have been actively involved with the Boy Scouts of America since I was eight years old. I eventually rose through the ranks and attained the rank of Eagle Scout, and after "Aging Out," at 18, I continued with my troop as an Assistant Scout Master. During my 12 years with the Scouts, I had the opportunity to be involved in dozens of civic activities and projects, and where I decided to dedicate my career to public service."
"While in the Scouts, I met several police officers and developed a passion for helping others. One of these officers had a son in our troop and eventually became an  Assistant Scout Master. During campouts and projects, I had the opportunity to talk to him, and he told me in greater detail about the benefits and opportunities law enforcement had to offer."
"He shared how law enforcement provided financial stability and exceptional pay and benefits. As I became older, he began to suggest I look at law enforcement as a career. When I turned 18, he arranged a Ride-Along, and from that day, I knew what I wanted to do."
This is an exceptional answer. It has provided sufficient rational justification for seeking a law enforcement career. If the board members are inclined to ask follow-up questions, this answer provided plenty of opportunities.
Wrapping It Up
In conclusion, you need to provide a beginning, middle, and end to your answer to, Why do you want to be a law enforcement officer? Only through properly construction of a logical and coherent response can you hope to ace the interview.
We will delve into specific tactics and techniques to improve your interview performance in future blogs and podcasts. Until then, please stay safe.
Click on the following links to join our community:
Website: LawEnforcementGuru.com
Subscribe to the LE Guru Podcast.
Subscribe to our Email List.
Join the LE Guru Private Facebook Page to ask questions and get answers.
Visit us on Instagram for daily content and motivation.
Connect with us on Twitter.
Email: tony@lawenforcementguru.com.